PROFILE » ISCAHM Quezon City
The International School for Culinary Arts and Hotel Management (ISCAHM) is a world class training center where dedication and close ties to the hospitality industry are the hallmarks of teaching and learning. It is owned, developed and managed by men and women who are top international hotel professionals. Together, they bring to the classroom the expertise and business savvy that will provide students with comprehensive theoretical knowledge and practical hands-on experience.
ISCAHM was put up as a realization of a dream by founders, Hansjorg Schallenberg and Norbert Gandler. Stemming back from its roots as the Institute of Hotel and Restaurant Studies (IHRS) in 2002 opened by Chef Schallenberg. The same year, Mr. Schallenberg and Mr. Gandler joined efforts to realize their dream of putting up a bigger school that not only offers short courses but as well as full courses in the hospitality industry.
In December 2003, the International School for Culinary Arts and Hotel Management (ISCAHM) opened its doors in Katipunan Avenue, Loyola Heights, Quezon City.
Since inception in 2003, and with the additional branch in the prime city of Cebu, ISCAHM holds an unparalleled record of producing graduates who have excelled in the dynamic and exciting industries in the field of culinary arts/pastry arts and hotel management both in the country and abroad. In 2014 ISCAHM Pampanga was added as the third school to provide the young generation of Angeles city and surroundings the opportunity to start a career in the hospitality industry.


MISSION / VISION
Our Mission
To teach the theories as well as the practical skills required in the administrative and operations management of the hospitality and food service industry
To mold the students into becoming real professionals by helping them acquire values such as discipline, service for others, honesty, efficiency and perfection in their trade
To produce highly skilled trade professionals patterned to the up to date culinary trends
To guide the students in the right direction for them to have an easy start for their chosen profession
To maintain a panel of faculties who are very experienced professionals in their field
To ensure that the management of the school prioritizes quality education
Our Guiding Principles
We take pride in our work and celebrate our achievements.
We work together and pledge our unconditional commitment to further advance and continue improvements of our standards.
We believe in safe, caring, harmonious and stimulating learning environment.
We respect vitality and diversity of cultures and integrity of global hotel and restaurant environment.
We employ modern technology and keeping touch with current industry trend and simultaneously promote and strengthen the basics as principal foundation advancement in chosen field
We respect ourselves, our students, faculty, staff and property.
HISTORY
Hans Schallenberg and Norbert Gandler have been friends from the Makati Shangri-La days when both served as part of the opening team of the hotel in 1992. Hans was the F&B Director and Norbert was the Executive Sous Chef. After Makati Shangri-La, Norbert moved on to become the Executive Chef of the Mandarin Oriental Hotel, while Hans decided to go into private consultancy and put up Schallenberg and Associates Hotel & Restaurant Design. Even at that time, both had a vision to put up a culinary and hotel management school of international standards.
In June 2002, Hans opened the Institute for Hotel & Restaurant Studies (IHRS) in Ortigas Center, which offered short courses in culinary arts and restaurant service. The school was able to graduate more than 300 students. It was given the Most Outstanding School for Hotel Operations award by the Consumers' League of the Philippines Foundation, Inc. in October 2003. That same year, Hans and Norbert decided to put up a bigger school that offers full courses for the hospitality industry. Norbert decided to retire from his job as Executive Chef of the Mandarin Oriental, a post he held for 9 years, to become a full-time educator.
In December 2003, the International School for Culinary Arts and Hotel Management (ISCAHM) opened its doors in Katipunan Avenue, Loyola Heights, Quezon City.

ISCAHM was put up as a realization of their dream to give quality education in the fields of hotel & restaurant management, culinary & pastry arts and food & beverage service at a very affordable price to Filipinos. They felt that it was possible to give the same quality of education being offered by European culinary and hospitality management schools at a much lesser price here in Manila. With this school, Hans and Norbert believe that they can help the Filipino excel in the field of culinary & pastry arts and hotel management.
To help them give the quality education they envisioned, they invited their friends, executive chefs, pastry chefs and hotel executives of various international five-star hotels, to join the school's faculty roster. The school now boasts of a high-caliber faculty list of hotel professionals from Switzerland, Austria, Germany, Sri Lanka, Canada and the Philippines with Chef Ernie Babaran as Faculty and Director for Pastry and Bakery Arts and in 2005, Chef Ulrich Willimann, also a part-owner, joined ISCAHM as Faculty and Director for Culinary Arts.
The school is currently offering Diploma in Culinary Arts & Kitchen Management and Diploma in Pastry and Bakery Arts & Kitchen Management. Short courses are also being offered, namely, Fundamentals in Culinary Arts, Fundamentals in Pastry Arts and Flavors of Asia are three-month certificate courses with once a week session. The Fundamentals in Bread Baking is a one-month course while the Pralines class is a three-week hands-on course, both with once a week session as well. These courses are very popular among industry practitioners, and hobbyists.
In addition to our regular courses, the school also formed partnership with manning agencies and companies engaged in cargo and cruise line operations. This involves designing and offering special training programs for culinary, pastry, service and beverage courses that are specifically made based on their individual requirements. The school has also been tapped to conduct training for the educators of the country from different colleges and universities all over the country.
Over the years, ISCAHM have been recognized locally and internationally as one of the most professional culinary schools here in the Philippines due to its international faculty roster and its professional way of teaching European curriculum which made it even more possible for many Filipinos and international students to attain great professional achievements here in the Philippines or abroad.

The quality education of ISCAHM had impressed Culinary Solutions Australia International (CSAI) that brought upon an exclusive partnership agreement with ISCAHM for the Philippines to offer Australian Certificate III in Culinary Arts and Certificate III in Pâtisserie. Starting January 2011, ISCAHM has offered the Diploma in Culinary Arts and Kitchen Management with Australian Certificate III in Culinary Arts and Diploma in Pastry & Bakery Arts and Kitchen Management with Australian Certificate III in Pâtisserie.
This qualification provides the skills and knowledge for a person to be graded as a cook in Continental European style food. It is recommended for students wishing to obtain employment at 4- or 5-star graded hotels and work on an international basis. Work would be undertaken in various hospitality enterprises where food is prepared and served.
It will be teamed up with 3 electives so that the students will learn wider variety of food and job prospects for local employment are better. The Australian Certificate III in Commercial Cookery or Patisserie is recognized by the Australian government. Graduates of ISCAHM earn this international certificate upon completing the Australian competencies. It adds credit to and upgrades the qualification of the graduate as a kitchen professional.
Not long after, its second campus was opened on July 12, 2012, this time, in the prime city of Cebu with the intent of reaching the southern part of the country. ISCAHM Cebu is located at Synergis IT Center along F.Cabahug Street in Kasambagan, Cebu City and they offer both diploma courses and short courses as well.
The two (2) ISCAHM campuses are all under the ownership and/or management and operation of the Hospitality School Management Group, Inc. which was incorporated on September 15, 2010.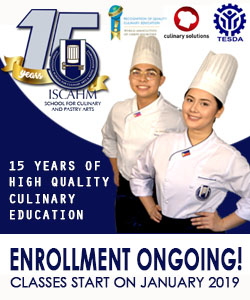 CLASSES START ON JANUARY 2019! ENROLLMENT ONGOING.
[ More Details ]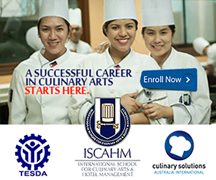 SUCCESSFUL CAREER IN CULINARY AND PASTRY ARTS BEGINS HERE!
[ More Details ]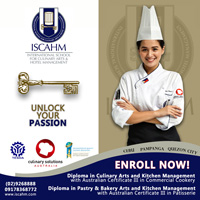 Enroll Now
[ More Details ]