ISCAHM Pampanga
Known as the culinary capital of the Philippines, Pampanga's cooking culture become even more diverse and exciting as International School for Culinary Arts and Hotel Management (ISCAHM) opened its first school in Central Luzon at the former Batis Asul Compound, Barangay Sto. Domingo, MacArthur Highway, Angeles City, Pampanga.

Aspiring chefs from Central and Northern Luzon are assured to learn and be trained by experienced and award-winning chef instructors who are passionate and have set a high standard for skills and knowledge in culinary and pastry education.

Our resort-like campus provides ample space for learning complete with all the modern equipment of world class professional kitchens; and a green house where we grow organic herbs and vegetables.
Scheduled Courses
Fundamentals in Culinary Arts

Duration : 18 Apr 2020 - 11 Jul 2020

Junior Chefs League

Duration : 20 Apr 2020 - 24 Apr 2020

NC II Certificate in Bread & Pastry Production

Duration : 26 Jun 2020 - 08 Jan 2021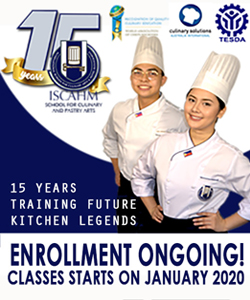 CLASSES START ON JANUARY 2020! ENROLLMENT ONGOING.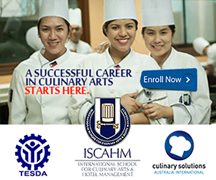 SUCCESSFUL CAREER IN CULINARY AND PASTRY ARTS BEGINS HERE!