ISCAHM Quezon City
In December 2003, ISCAHM opened its doors in Katipunan Avenue, Loyola Heights, Quezon City. It was a realization of a dream by its founders to open a culinary school of international standards, at par with the quality education offered by European culinary and hospitality management schools at an affordable price in Manila. It is strategically located nearby some of the major universities in the Philippines, accessible transport stations, establishments and dormitories.

Over the past 15 years, ISCAHM Quezon City has successfully trained thousands of aspiring chefs, several of which are now executive or corporate chefs, successful food business entrepreneurs and educators here and around the world.
Scheduled Courses
Artisan Bread

Duration : 12 Jul 2019 - 19 Jul 2019

Restaurant Concept And Entrepreneurship Program

Duration : 13 Jul 2019 - 17 Aug 2019

Fundamentals in Pastry Arts

Duration : 20 Jul 2019 - 05 Oct 2019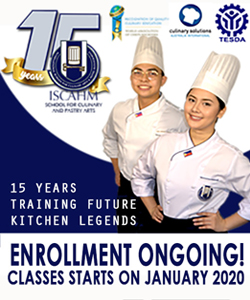 CLASSES START ON JULY 2019! ENROLLMENT ONGOING.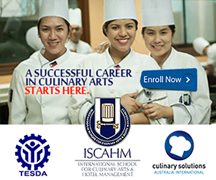 SUCCESSFUL CAREER IN CULINARY AND PASTRY ARTS BEGINS HERE!