PROFILE » ISCAHM Pampanga
The International School for Culinary Arts and Hotel Management (ISCAHM) Pampanga
Pampanga's cooking culture is set to become even more diverse and exciting as the prestigious International School for Culinary Arts and Hotel Management (ISCAHM) recently opened its first school in Central Luzon at the former Batis Asul Compound, Barangay Sto. Domingo, MacArthur Highway, Angeles City, Pampanga.

ISCAHM Pampanga, like its two other campuses, will offer Diploma in Culinary Arts & Kitchen Management, and Diploma in Pastry and Bakery Arts & Kitchen Management. Here, students will experience training founded on international five-star hospitality standard. Under the tutelage of professional culinary artists and hospitality professionals, they will learn the latest industry techniques and trends in a friendly and familiar environment -- a more favorable alternative to getting a degree in a costly overseas school.

Owned and operated by some of the Philippines' most awarded and revered practitioners in the culinary and hotel industries, it also takes pride in its close ties to the hospitality industry. Their combined expertise and business savvy elevates ISCAHM's to the highest standards -- providing students with comprehensive theoretical knowledge and the best practical hands-on instruction.

ISCAHM Pampanga continues the institution's excellent level of education through the leadership of Chefs Kenneth Lee O. Cacho under the supervision of ISCAHM founder Chef Norbert Gandler.

ISCAHM Pampanga also opened ISCAHM Catering Services. This allied service will give Pampanga clients the opportunity to experience excellent food and service in the high ISCAHM standard for their private or corporate functions.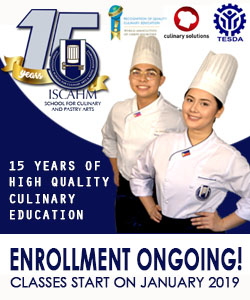 CLASSES START ON JANUARY 2019! ENROLLMENT ONGOING.
[ More Details ]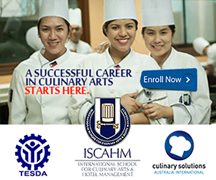 SUCCESSFUL CAREER IN CULINARY AND PASTRY ARTS BEGINS HERE!
[ More Details ]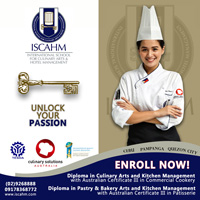 Enroll Now
[ More Details ]