Artisan bread or more accurately artisanal bread is bread made using traditional methods. This includes respect for ingredients and understanding the fermentation process. Appreciate, understand and learn artisan bread making - from its basic ingredients, fermentation process, to the use of sponges, dough development, dough handling and hand-shaping techniques.
Duration
2 session, 5 hours each
Details
This 2-day course covers the foundation of the art and introduces the necessary groundwork to get one started in this pursuit.
Chef Instructor: Chef Bubbles Lerias
Document Download :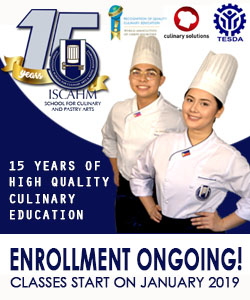 CLASSES START ON JANUARY 2019! ENROLLMENT ONGOING.
[ More Details ]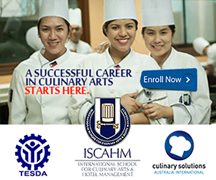 SUCCESSFUL CAREER IN CULINARY AND PASTRY ARTS BEGINS HERE!
[ More Details ]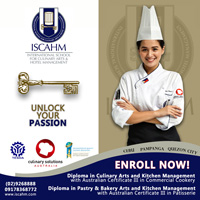 Enroll Now
[ More Details ]